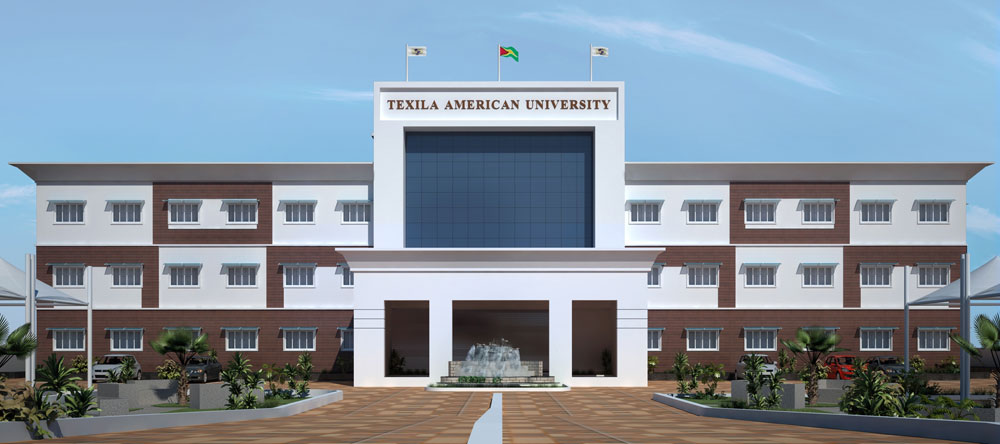 Selecting the right medical college is the first step towards graduating as a Doctor. The first year will befull of challenges but we can assure students of an enriching and overwhelming experience. Whenyou are a part of Texila American University, Guyana (TAU) you join the league of passionateindividuals ready to grow into world-class physicians. A top Medical School and learning institution,TAU – Guyana promises every student an apt learning environment. Every step that you takehenceforth will contribute towards fulfilling your dreams of becoming a Doctor.
In 2010, when TAU established its first campus in Guyana, we knew that we were going to make apositive difference to the world we live in. Our campus motto "Bringing Education to Life"communicates our goal for every student who joins us for their academic and scholastic pursuits.TAU offers a full range of undergraduate and postgraduate medical programs, designed to nurturethe mind and prepare one to face healthcare challenges in the 21st century. At TAU, students havethe opportunity to acquire an internationally recognised medical education facilitated by thepresence of our distinguished international faculty. Our distinctive approach to research-led teachingand hands-on clinical training has been recognised across the world. By choosing TAU, students willjoin a community of brilliant and driven people.
Vision
To lead in advancing human health through best clinical care, innovative research and education ofhealth professionals in modern medicine in a culture that supports diversity, inclusion, criticalthinking and creativity.
Mission
When it comes to opportunities and experiences, there is no better choice than TAU in theCaribbean. Our mission is not only to help our students learn the skills required as a medicalpractitioner but use their learning to make a positive difference to the world they are living in. At TAU,we therefore work together:
To build healthcare professionals for excellence in the contemporary world of medicine.
To create doctors with compassion for the poor and rich alike.
To instil curiosity in mind for health sciences.
To generate awareness in application of health science and wellness for the welfare of society.
To provide a supportive environment of global learning and research in health and allied sciences, rising above the geographical and cultural boundaries.
Why study Medicine at Texila American University?
In a milestone agreement, and for the first time in recent history, US accredited Ponce HealthSciences University (PHSU), has licensed their curriculum for implementation by an institution (TAU) outside of the North American domain. This includes all lectures, assessment programs and examinations. Texila American University is recognized by the Medical Council of India (MCI) and a M.D. program at TAU therefore comes with the advantage of:
USMLE Step 1 Pass Guarantee or the school will pay for a review program of, up to $5,000*
96% Pass rate in USMLE
Inbuilt training for USMLE and FMGE/NEXT
Core Clinical Rotations in Green Books listed hospitals across USA
Placement assistance in PG programs in USA
State-of-the-art infrastructure and superior facilities when compared to Indian colleges
International faculty
Accommodation in university managed hostel for the first year and Indian food is available at additional cost
Indian Management with Faculties from US, UK, India, Philippines and South America.
One-year free Accommodation for Indian Students.
Affordable fee structure.
96% pass percentage USMLE Step 1 & FMGE in MCI screening exam.
The only University in entire Central American Region which follows LCME accredited curriculum by having an academic partnership with PONCE University.
Guyana is a Tropical Climate Country, which resembles Kerala in India.
Proximity to US - 3 Hrs by flight from Georgetown to Miami.
Duration for M.D. Program is 5 years.
1 year : Pre- medical
2 years : Pre- Clinical
2 years : Clinical Rotation in Guyana / U.S.A