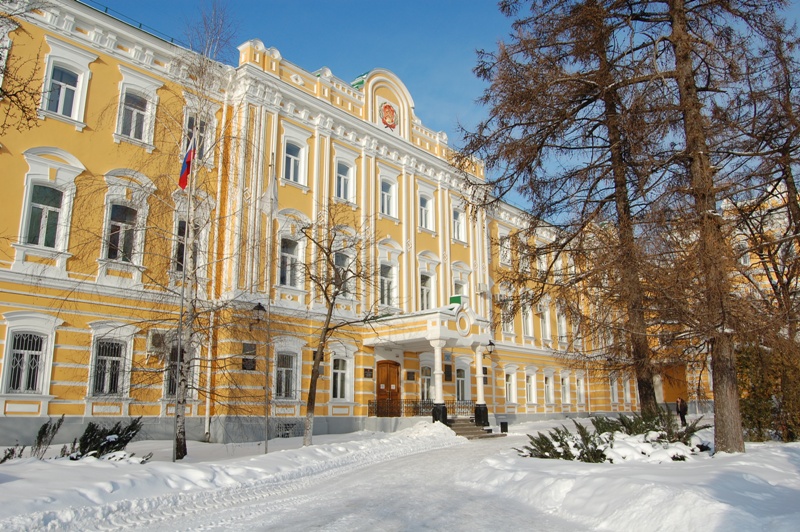 "Ryazan State Medical University is a well-respected institution in Russia and internationally. Ryazan State Medical University today is one of Russia's most highly regarded medical universities. Ryazan State Medical University has over 17 000 graduates who are now working in Russia and overseas."
Since over 70 years Ryazan State Medical University Named after I.P. Pavlov has been training qualified personnel to the Health Care System. The Ryazan State Medical University has been recognized in Russia and internationally. The University offers programs in high and secondary professional education in the medical spheres. It provides specialist training in residency, internship, postgraduate studies, doctoral candidacy, and professional retraining. This institution is also a research centre for medical science and medical prophylactic activities.
Ryazan State Medical University's aim is to provide quality professional lifelong education based on the traditional traditions of the medical school and educational technologies. The RSMU provides professional development for specialists in health protection that is competitive at both the Russian and international levels.
Ryazan State Medical University Today
More than 56 000 graduate professionals from different fields; 5500 students; almost 1000 foreign students. Graduates work in 130 countries. There are 8 specialties in higher professional education and 3 specialties in secondary professional education. There are 16 training buildings. Over 30 directions for postgraduate studies. 639 teachers and lecturers are qualified.
Students from Spain, Italy and Hungary visited Ryazan State Medicine University from September 2016 to December 2016. They came to see the interior of Russian hospitals, as well as learn from Russian professors. They also got to know the culture and made friends with Russian medical students as a bonus of their studies.
Medical Faculty at Ryazan Medical University
Faculty of General Medicine (MBBS).The oldest and most important faculty at Ryazan State Medical University's Medical Faculty is the Medical Faculty. September 1, 1950 saw the beginning of classes 1, 2, 3, and 4 of the medical faculty. These courses were translated from Moscow to Ryazan as part of the medical institution. June 1953 saw the first Ryazan graduation of doctors. 204 young specialists were awarded a diploma and they remained vigilant over human health throughout the country, from Belgorod through Vladivostok. Over the years, more than 17,000 doctors have been trained in the Ryazan division.
Its graduates have a doctorate in medicine. The MBBS program at the Faculty lasts 6 years. Students learn different disciplines including ophthalmology, ophthalmology, surgery, physiology, chemistry, biology, histology and physiology.
Faculty of Dentistry Medicine Faculty of Pharmacy
Medico-preventive Faculty
Faculty of Clinical Psychology
Faculty of Postgraduate Studies.
MBBS Fees Ryazan State Medical University – Fee Structure 2021
| RYAZAN STATE MEDICAL UNIVERSITY (RUSSIA) | TUITION FEE/YEAR | HOSTEL FEE / ONE YEAR | FEES in US Dollars | FEES IN INDIAN RUPES |
| --- | --- | --- | --- | --- |
| Ist Year Fees | 4000 USD | 300 US Dollars | 4300 USD | Rs. Rs. |
| Fees for 2nd-6th Year | 4000 USD/year | 300 USD/year | 4300 USD/Yr. | Rs. Rs. |
| Total fees for the 6 year MBBS Study | USD 25,800 = Rs. USD 25,800 = Rs. 1 USD @ 72 INR | | | |
Fees Calculated USD = Rs. 70 Fees Calculated USD = Rs.
Food and other miscellaneous expenses150 USD / Month
Tuition Fee Included in the price: Study materials, library charge, laboratory charge, and examination fee.
Hostel Fee Included: Accommodation, Bedding and Furniture. 24-hour Electricity and Gas.
Ryazan Medical University Hostels Facility:
Ryazan State Medical University has 56 departments and 16 academic buildings. It also includes the base dental clinic, central scientific research laboratory and consulting diagnostic polyclinic. Viviarium, botanic gardens with the experimental ground, sports camp, four comfortable hostels for international students, gyms and mini-football grounds. There are also 2 basketball courts and a tennis court. The University has a large library that contains educational and scientific literature in other languages.
Department for Foreign Students
Since 1992, Ryazan State Medical University provides specialist training to foreign citizens. More than 1500 foreign students graduated from University during this time. More than 1000 students from 55 different countries are currently studying here.
Ryazan Medical University has a lot of experience teaching with the translation service. This makes it possible for English and French-speaking students to receive an education at this university. This specialization, "General Medicine", is also available in English.
The Life of a Foreign Student
Ryazan State Medical University is part of the Euro case for European organization of quality. The University hosts more than 1000 students from over 60 countries in Europe, Asia, Africa, the Commonwealth, and Independent States. All University events are open to foreign students, including amateur performances, sports competitions and volunteerism. Students from various countries organize days of national culture at the University. These days are where students can learn about the traditions, folklore, and traditional foods of their foreign classmates.