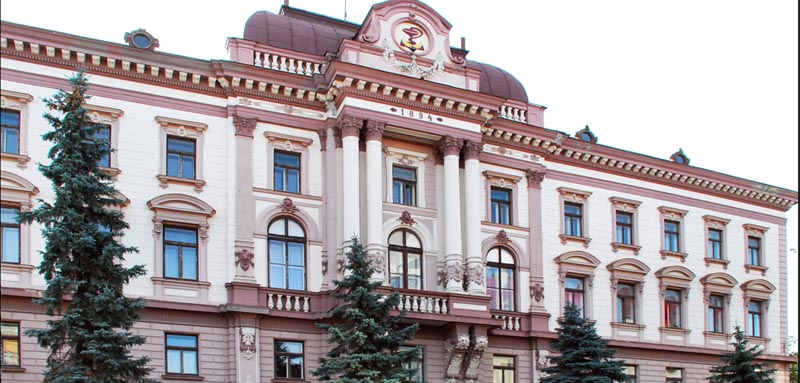 INTRODUCTION
Ivano is one of the beautiful cities of Ukraine, an important scientific and cultural center. State establishment Ivano Frankivsk National Medical University [IFNMU] is a modern institution of higher education with rich traditions. Establishment of Ivano Frankivsk National Medical University was founded in the year of 1945. Ivano Frankivsk National Medical University is one of the oldest and leading medical University of Ukraine from last 68 years and former USSR. High level of qualification allows graduates of the University to work successfully in many countries of the world, to achieve great success in science and practical public health services. Among them are scientists, heads of public health service, honored doctors. Ivano Frankivsk National Medical University provides high quality education to students who are looking for quality education at an affordable course fees. There are Thirteen faculties and a preparatory department. The Ivano Frankivsk National Medical University trains specialists along the following education / qualification levels: Under graduate, Junior specialists, specialists, Masters for the following specialties:
Major
General Medicine (Doctor of Medicine degree) - 6 years course
Dentistry (Doctor of Dentistry degree) - 5 year course
Pediatrics (Doctor of Medicine degree) - 6 year course
Pharmacy (Bachelor of Pharmacy degree) - 5 year course
Nursing (RN) - 3 / 4 year course
Prosthodontics (MDS / Clinical Residency) - 2 year course
Educational and Qualification levels
Specialist (MD, MDD)
Master of Medicine (Pharmacy)
PhD
Ivano Frankivsk National Medical University prepares specialists in 185 medical specialties'. Good facilities, high qualification level of the teaching staff, scientific and methodical provision led Ivano Frankivsk National Medical University are one of the leading places in the country.

Teaching Staff 443 teachers, among them 77 PhDs, 264 candidates for PhD and 19 Academicians, including five Honored Science and Technique Workers of Ukraine, one Honored Worker of public education of Ukraine, two Honored doctors of Ukraine, two Laureates of State prize of Ukraine carry out pedagogical, scientific, medical and educational work at 48 departments. Ivano Frankivsk National Medical University has very good facilities.

The Medium of instruction is English for all six years for International students. The course is offered in Russian /Ukranian for local candidates. Candidates studying in English medium for all six years are given language classes for the first two years so they may be proficient in the local language for conversing with patients and everyday use.

The Curriculum taught in the University is approved by the Ministry of Education and the Ministry of Public Health of Ukraine.

Candidates are formed in small groups of 6 to 10 students for teaching. Due to the small size of the student group - individual attention is possible for each student. For the first two years the students are taught in class. From 2nd year onwards, students are also taught clinical subjects and given clinical training in Hospitals for practical experience.

A student needs to read the text and do self preparation before attending class. Notes are provided for this. Students can borrow books from the library or purchase their own books for this. Students need 100% class attendance: If absent; they have to rework the class in the weekend, after due permission from the course teacher. Each class session is graded. There are internal examinations to be passed. Each year of education is important and must be passed before the student is permitted to graduate. In addition to the University's internal examination, the Student has to pass State Test (external examination) before graduation in the 3rd and 6th year of education. In the year of graduation; the student is tested on practical proficiency on clinical discipline at the patient's bed (Practical Test) and on scientific and theoretical proficiency (Theoretical Test) both have to be passed before graduation is possible.

After graduation, the student can practice or enroll in over 20 specializations offered by the University such as cardiology, clinical medicine, oncology, radiology, public health etc.

Students and graduates of Ivano-Frankivsk National Medical University are eligible to participate in the United States Medical Licensing Examination (USMLE) & receive ECFMG certification. ECFMG certification requires all graduates to have passed USMLE Step 1 & 2 (both sections), submit a final transcript and provide a copy of the graduate's diploma for verification. Once ECFMG certification is granted; graduates are eligible for Postgraduate Medical education (Residency Training) in the United States of America. Prospective & current students of Ivano-Frankivsk National Medical University wishing to practice in the USA are encouraged to educate themselves on the licensure policies in respective states. Information can be obtained by going to the Federation of State Medical Boards of United States (FSMB) website and from related sources.
POST GRADUATE DEGREES
Post Graduate Degrees are offered in the below disciplines in English Medium
Cardio surgery
Cardiology
Dermatology
ENT
Family medicine
Forensic Medicine
Gastroenterology
General Medicine
Gynecology
Intensive care medicine
Internal diseases
Neurology
Neurosurgery
Nuclear Medicine
Oncology
Ophthalmology
Orthopedics
Pediatrics
Plastic Surgery
Public Health
Pulmonary Medicine
Radiology
Social Medicine
Surgery
Therapy
Urology
MDS - MASTER OF DENTAL Master Of Dental Science
A two year Clinical Residential (Clinical Residency) course is offered in English Medium for International Students in "Oral Surgery".There are only 5 (five) seats in total available in this course in the English Medium.Students can be admitted to other specialties in Russian / Ukrainian medium. For admission in Russian or Ukrainian medium, international students are advised to first join a 10 month preparatory course.
Post Graduate Students are given practical training in various techniques of Oral Surgery. They Observe and assist in the operations; but not permitted to conduct an actual operation as they are do not hold the required qualification or experience. The professors explain the process to the student and answer questions.This is a two year course in pure Clinical practice
IFNMU is among the six top higher medical educational establishments of Ukraine and about 1000 foreign students from all over the world study at IFSMU every year. As part of the Euro Integrating process, IFNMU has been providing English medium education since 2004. Modern lecture halls and labs, library, computer classes with Internet connection, gym with the training equipment, swimming-pool, rest camp on the Black Sea and in the Carpathian mountains are at the foreign students" service. All rights and freedoms are guaranteed to the foreign students according to the Law of Ukraine and University Statute. Ivano-Frankivsk National Medical University is one of the oldest and leading medical higher institutions of Ukraine and former USSR. The University was founded in 1945. All the educational programs of the University are regulated and approved by the Ministry of Education & Science of Ukraine and the Ministry of Health of Ukraine. Degrees and diplomas issued to International students by the Ivano-Frankivsk National Medical University are legalized by the Ministry of heath of Ukraine and Ministry of Foreign Affairs of Ukraine. Students from India are eligible to sit for the National Board of Examination (NBE) and to register with the Medical Council of India (MCI); after obtaining an "Eligibility Certificate" from the MCI prior to sitting for the Competency test conducted by the NBE and complying with any other guide-lines of the certification authority.
BOLOGNA PROCESS
Easy to move from one country to the other within the European Higher Education Area - for the purpose of further study or employment;
Increase attractiveness of European higher education so many people from non-European countries also come to study and/or work in Europe;
Provide Europe with a broad, high quality and advanced knowledge base, and ensure the development of Europe as a stable, peaceful and tolerant community.
HOSTEL
Ivano-Frankivsk National Medical University possesses an excellent system of hostel accommodation. It owns three hostel buildings with capacity of over 2000 students. Rooms are fully furnished and consist of an apartment like system with a two bed and a three bed room with an attached toilet. On each floor there is a common hall and a common kitchen for cooking. On the ground floor there is a gym cum recreation center including a table tennis table. Hostel rooms come furnished with beds, mattress, pillows, blanket, two side tables, one cupboard per room and one table and chair per room. Occupants get a weekly change of bed-sheet and pillow case. Hot water is available in designated hours. All rooms are centrally heated. A plumber, carpenter and electrician are available on call. Admission to the Hostel is competitive. It is based on first come-first serve and subject to availability. Students residing in the hostel sign an annual contract and are expected to follow the rules of the hostel; which include closing of the hostel gate at 11.00 pm, registering all visitors to the hostel, not making noise and showing consideration to fellow residents in the hostel.

The main hostel is located about 2 kilometers from the Deans' office and the City center. Many buses cover this distance or it is a pleasant 20-25 minute walk. Supermarkets and grocery shops are within 2-3 minutes' walk from the hostel. Off campus housing / flats are available to students who can rent rooms or flats in private apartments. These are at various prices ranging from $ 150 to 350 per month dependent on size and location of the flat. International Students who live outside the hostel are required to notify the Foreign Dean's office in writing of their address so that the address changes is informed to the Foreigners Registration office as required under the laws of Ukraine.