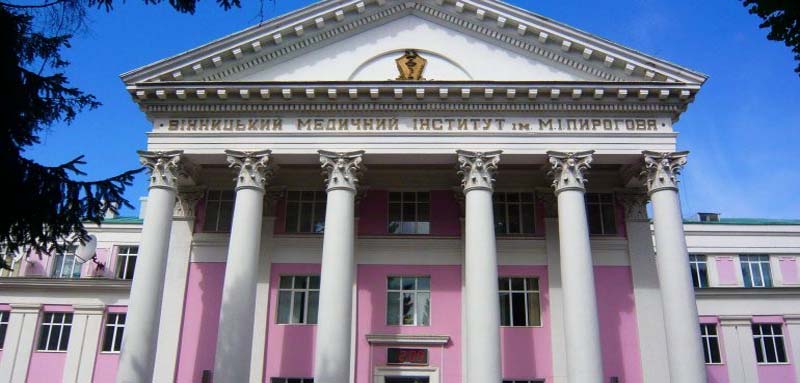 About VINNITSA NATIONAL MEDICAL UNIVERSITY
Vinnitsa National Medical University is a government co-education medical university for MBBS in Ukraine. The University is located in the city of Vinnytsia and is accredited/recognized by the Ministry of Health of Ukraine, Medical Council of India (MCI), and World Health Organisation (WHO). This means that Indian students are eligible to sit for the FMGE or MCI Screening Test after completing their degree from Vinnitsa National Medical University. The University is approximately 260 km away from the capital city of Kyiv and it takes about 3 hours to travel between the two cities via train. Vinnytsia is well connected and transportation to Vinnitsa from Kyiv is easy. Your complete studies will be in English medium and the local language will be taught to you for easy conversation with the locals during your stay in Ukraine. The university is also known as National Pirogov Memorial Medical University. The University hosts nearly 5,500 students. Nearly 1,000 of these are international students.

The degree awarded by Vinnitsa National Medical University is called MD (Physician) and the course duration is 6 years. The degree is also recognized by the International Medical Education Directory (IMED), US Education Department, and General Council Of Medicine of Great Britain. The climate in Vinnitsa is moderate continental. The average temperatures are 5 degrees in January and 18 degrees in June.
Why MBBS in Ukraine:
Medicine in Ukraine is quite cheap compared to other parts of Europe. Medicine is one of Ukraine's major strengths. There are thousands of International students studying Medicine in Ukraine.
Educational System in Ukraine is widely accepted worldwide.
MBBS in Ukraine follows a high standard of education and teachers here are all highly qualified.
No admission test is required for entrance into most of the colleges and universities of the country. The admission process is very simple.
Almost all their courses are globally Recognized (WHO, UNESCO, EUROPEAN COUNCIL, etc.).
Admission conditions for foreign citizens:
All foreign citizens having a senior secondary school certificate or higher university/ college degree from a recognized academic institution are eligible for admission to National Pirogov Memorial Medical University, Vinnytsia (recognized by WHO). The language of instruction is Ukrainian, English, and Russian. Foreign citizens who don't know the Ukrainian/ Russian language or having incomplete command of it may study Ukrainian/ Russian language at the preparatory Faculty of the university along with the pre-university course.
Faculties available at the University:
Faculties of Medicine (specialties: General Medicine, Medical Psychology, Pediatrics); Dentistry; pharmacy (specialties: Pharmacy, Clinical Pharmacy); Preparatory Faculty for foreign citizens; Postgraduate studies in 53 Medical specialties.
Duration of training
Specialties
Degrees awarded
Duration
Preparatory Faculty
1 year
Undergraduate studies
General Medicine
Physician, M.D.
6 years
Pediatrics
Pediatrician
6 years
Medical Psychology
Medical Psychologist
6 years
Dentistry
Dentist
5 years
Pharmacy
Pharmacist
5 years
Clinical Pharmacy
Clinical Pharmacist
5 years
Vinnytsia City:
Vinnytsia is located on the banks of the river pivdennyy bug, 260 km to the south of the capital of Ukraine Kiev (3 hours by train), 14 hours by train from Moscow and 6- form Odessa and from Lviv). The city is connected by the railway and air paths to Western Europe and other countries. The average temperature in winter is 5-7 c below zero summers 20+27 c above zero.