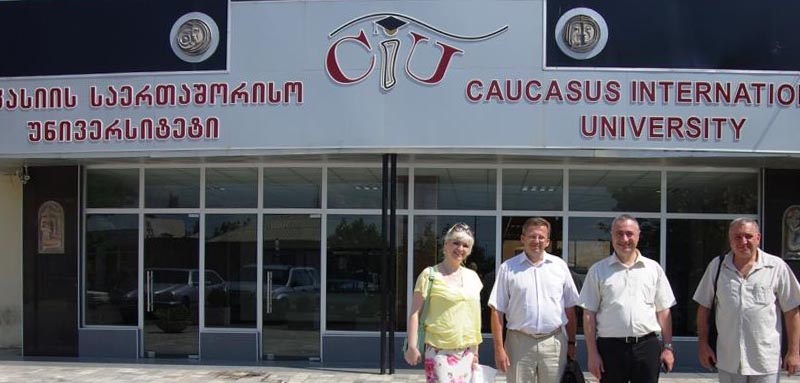 INTRODUCTION
Caucasus International University is based on the rare principle of creating moral, knowledgeable and well-behaved students, those with the ability of dealing with present day democracy and carrying out their responsibilities as citizens with success. The university was established in the year 1995, amidst hostile political and social conditions and its only surviving motto was a constant endeavor to improve itself. By virtue of employing dedicated and talented teaching staff, the university started to attract attention of students within and beyond Georgia and soon became one of the top institutes of higher learning in the area. The university received accreditation as a center of higher learning in between the years 2005 and 2007 and all programs of the university passed authorization and accreditation for a period of five years in the year 2012.

Though there are many institutes for studying masters and bachelor degree courses in Georgia, lacking is places where students can expect a Western mode and principle of teaching. The Caucasus International University bases its format of teaching on ancient traditions of Gelati and Ikalto but also incorporates higher education standards and methods prevalent in Europe thus achieving a healthy balance between the pros of both. Guided by the Bologna Process and the Copenhagen Declaration, the European mode of learning followed in CIU makes it easy for international students to fit in.

The Caucasus International University offers Bachelor, One-step (in Georgian, English and Russian), Master and Doctoral programs.
The university is known for its ability to provide quality medical training against highly affordable tuition fees. The courses offered by the Faculty of Medicine are as follows:
Bachelor Degree Program in Pharmacy
Bachelor Degree Program in Physical Medicine and Rehabilitation
One-Step Educational Program in Medicine
One-Step Educational Program in Dentistry
Educational Program in Medicine (English)
Educational Program in Dentistry (English)
Educational Program in Dentistry (Russian)
Educational Program in Pharmacy (English)
Educational Program in Physical Medicine and Rehabilitation (language of instruction ? English)
The university authorities have always maintained a consistent attempt at providing top quality medical training by focusing on creating fine and improved laboratories and arranging for internships and practice in Georgia's top clinics and hospitals. Students spend an approximate 105 weeks in clinical training during their course and this amount to about 50%-74% of their total training period as students of medicine.

With time, considerable changes have been brought in to improve the medical educational standards of the university such as changes in syllabus, increasing the number of teaching staff, improving laboratories and libraries and construction of new buildings. Feedbacks are also taken from students for increasing involvement and ensuring that the students feel comfortable and taken care of.