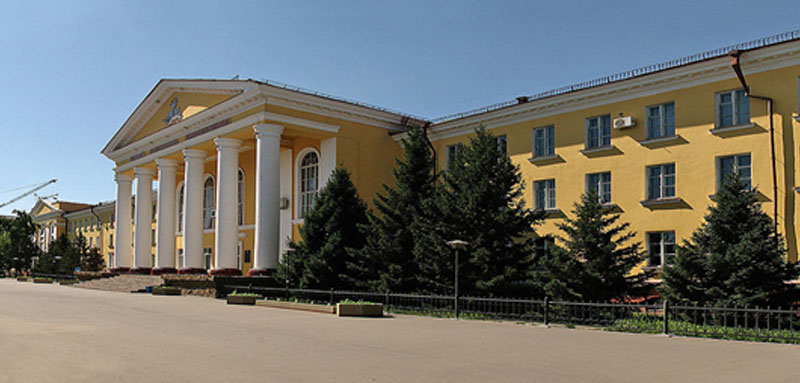 INTRODUCTION
State Medical University - Semey was founded as "Semipalatinsk State Medical Institute" by the order of the USSR Board of ministers and the USSR Ministry of Health Services in 1952. By the order of the Health Services Committee of the Republic of Kazakhstan, it was transformed into "Semipaltinsk ( Semey) Government (State) Medical University" in 1997.
The University during the period of its existence for more than 55 years have prepared more than forty thousand highly qualified doctor- specialists, who offer their services noy only in Kazakhstan and CIS countries, but in the foreign countries like USA, Germany, Australia, India, Pakistan. Israel & mamy other countries and wherever they may not work, they introduce themselves as the graduates from the University with great pride.
The frist group of students was admitted in General Medicine Faculty in 1953.Thereafter, was opened the pediatrics in 1963, stomatology faculty in 1991, Medico-prophylactical, pharmaceutical faculty and General Medicine faulty in Pavlodor city was opened in 2003, which was afterwards transformed into a full Medical institution as a branch of the Medical University. Taking in view the importance of the post- diploma education, the faulty of raising the qualification of doctor's was opened in Pavlodor city in1984 under the State Medical University- Semey , where annually an average of more than 1000 doctors go through raise of their qualification from east Kazakhstan region as well as from the whole Republic.
At present in the Gen. Medicine , pediatrics, Stomatogical,pharmaceutical and medico- prophylacties faculties learn more than 3500 students. Signitificant scientific and clinical cadre potential has been concentrated for the well quality teaching incliding 35 Doctor's of sciences, 168 PhD's, I Academician od ASRK, 3 Corresponding member of the AMS RK and 4 corresponding member of the ANS RK.
A clinical study of the students is carried out in the clinics and hospitals of Semipalatinsk, Ust- Kamenogorsk and Pavlodor cities. Besides the University has its own Clinical base incliding multi-profile 530 bed hospital, stomatalogical polyclinic and family doctor's traning dispensary.
10 REASONS TO STUDY IN SEMEY STATE MEDICAL UNIVERSITY
Our Degrees recognized by WHO, Directory of Avicenna(more than 60 countries in Europe & Asia), Asian Network of Quality & equalized by councils like MCI, PMDC etc.
More than 25000 students and aspirants successfully graduated and work in leasing medical establishments and institutions all over world, including in countries like USA,Germany,France,japan,Canada,Australia,South Africa, india, Pakisthan, Bangladesh,etc.
Have Scientific agreements amd MoU's for collaboration and coopetation, joint research, Academicians, students and scholar exchange with leading institution & medical establishment all over world .
Frist Central Asian Government Medical University to carrying out studies fully in ENGLISH MEDIUM for foreign and local . Studies being carried out in three different languages (English, Russian, Kazakh) at student's choice.
Frist CIS University to get recognition and Associate Membership of Association of Indian Universities - New Delhi. Our one professor deputed for permanent representation in AIU-Delhi.
Educational Training Center (EMC) with models & Interactive Computer mannequins for practice.
Innovative teaching methods "Problem based learning" & "Case Based Learning" and other possible teachniques of Modern Learning.
Joint Scientific Laboratory for Research & Training Activities. 400 Computers connected to Internet & with access to the Cochrane Library.
3 Hostels to accommodate students and scholars with ane hostel exclusively for International Students. Library , Sports, art, Medical Aid, canteens, etc & other facilities available to the students.
International Students from the countries like India, Pakistan, Sri Lanka, Sudan, Syria, Afghanistan, China, studying in our university since 1997 . The selection, admission and other related process being taken care of jointly with the services of "TECAS" - our official consulting partner & the 'Foreign Relations Department' under the direct supervision of the higher management of the university. Our pass out International students successfully working in various in various hospitals and Institutions in their countries. Admission Criteria
Aspirants must have complete the age of 17 years on or before 31st December, in order to get MBBS admission for the particular year.
Authorization
Its affiliation is WHO (World Health Organization), MCI (Medical Council of India)
Courses
MBBS-(Duration 5 years + 1 year internship)
Post Graduate Course in different fields
PhD and Research work
Service and processing fee includes
Admission Letter
Invitation
Equivalency Certificate
Translation
Apostle
Attestation from embassy and various ministries
Visa Process
Indian Insurance Policy
Travel Card
Books with medical Kit
Stethoscope
Apron
Orientation Programme
Documentation
Administrative Charges
Tuition Fees
USD-3500/per year, Hostel charges-USD-500/-per year.
Required Documents at the time of admission
10th,11th and 12th mark sheets
10 passport size photographs with white background
There is a provision for Hostels for students.
For the accommodation of the students there is a provision of hostels separately for boys and girls. There are facilities for water supply, electricity and 24 hours Wi-Fi connection for the students. Canteens and mess are there for the students within the campus. Student's health is our primary focus. We provide healthy and nutrionists food which is served before examining by the food consultants and dietician.
For any further details you can log on to our website www.ucsworld.com and www.mymedicaladmissions.com or call @ 08177000509. You can book your seats through us and can enquire about anything .We are there to help you out. Connect with us and make your dream come true.